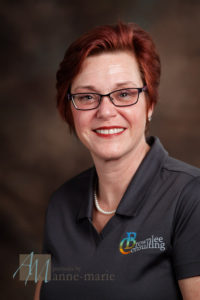 Michelle Brownlee specializes in ERP and SYSPRO software. She is a dedicated and experienced technical consultant with over 21 years of experience implementing and supporting SYSPRO ERP software and integrating SYSPRO to third-party solutions.
"I am your one stop shop for SYSPRO ERP in your local area. I am dedicated to being an active member of the implementation team, as well as providing training and on-going support. I hope that your ERP System search will include SYSPRO and that you invite me to introduce you to this Simply Smarter Solution!"
Michelle has worked with companies that are ISO compliant and has implemented necessary requirements within SYSPRO, both in Manufacturing and Distribution Company implementations.
She has a deep knowledge of SYSPRO software, and has performed installations and system upgrades on SYSPRO software from prior versions starting with Impact/Encore 3.2, Encore 4.0, Encore 5.0. Encore 5.1, SYSPRO 6.0 Issues 5-10 SP2, 6.1, 6.1 SP1, 7, 7.1 and now Syspro 8. Having recently achieved several Syspro Certifications including: Level 1 Manufacturing Solutions Consultant and also Level 1 Distribution Solutions Consultant.
Conducting Business Process Reviews, which is an analysis of the current business process flow which provides insights to existing areas which will benefit with improvements, so that proper recommendations for the system usage can be determined. Then developing the plan and then putting the processes into production.
Training of Administrative Tasks and everything in between, including the Accounting, Distribution and Manufacturing modules of SYSPRO ERP. These modules include but are not limited to: Accounting functions, Sales functions, Purchasing functions, Manufacturing functions, clerical functions, Administrative, user desktop and system environment customization. Implemented supplemental systems to SYSPRO such as Warehouse Management System, Document Management Systems, Bar-coding functionality, EDI Label Printing for 128 label requirements, Pallet requirement, Avalara Sales Tax Interface software, Credit Card Processing interface software, Document Flow Manager utilizing MS Message Queue for automation of external information, SYSPRO CRM System. Train Users on SQL Server tasks related to SYSPRO. Once defined, documentation creation of business processes for departments.
Teaching how as well as creating Custom Reports utilizing ODBC and Excel, as well the Native SYSPRO Report Writer and Crystal Reports versions 11, 2008 and 2013.
Manage Implementations – develop project plan and keeping track of timing, budget, Manage Go – No Go issues for Go Live.